Internships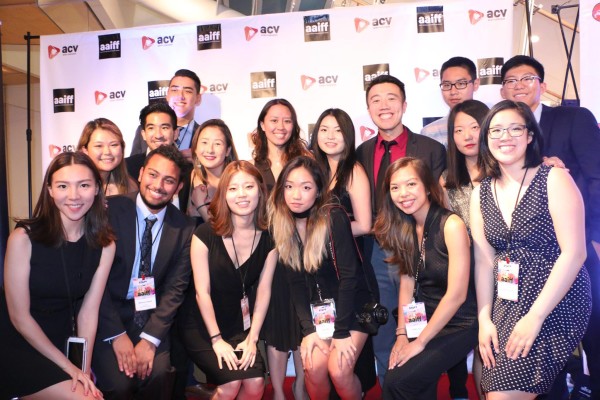 Are you a student or young professional looking to break into the film/media/entertainment industry in NYC? The Asian American International Film Festival (AAIFF) is the nation's longest running festival of its kind and the premier showcase for the best independent Asian and Asian American cinema. AAIFF is produced by Asian CineVision (ACV), a community-focused nonprofit media arts organization, devoted to the development, promotion, preservation, and exhibition of Asian and Asian American film and video.
We are celebrating our 40th anniversary from
July 21-29, 2017
this summer, and we want YOU to join our vibrant team of dedicated staff to put on the show!
We're currently recruiting a year-round team this year from October 2016 through August 2017. We meet once a month from October through March, twice a month from April through May, weekly in June, then twice a week in July in prep for the big celebration.
Positions are unpaid. We can provide school credit for this internship, and MTA travel reimbursement of up to $5.50 per day.
Development Director
– Recruit and manage all corporate sponsors
– Manage Development Associate (catering + contributing sponsors)
– Greet and manages all sponsors' attendances during the festival
– Obtains all sponsor ads and prints necessary for program book, step and repeat, trailer, etc.
Hospitality and Special Events Coordinator
– Research and secure all party/afterparty venues
– Coordinate closely with Opening/Closing Night venue managers
– Coordinate delivery to events with liquor/beer sponsors
– Manage front-of-house flow during all festival events
– Apply for NYS liquor licenses for theaters/venues (where applicable)
Production Manager 
– Supervise production of all print and digital marketing materials (booklet, postcards, badges)
– Create Production Log (aka Log Ryder) for all festival events
– Produce festival and recap videos
– Manage designers to create walk-in slideshow for Gala Presentations and Regular Admission screenings
– Order awards for honoree
– Buy utensils and decorations for Gala Presentations
– Buy supplies for the day-of the festival
Public Relations Coordinator
– Work with the press (both English/Foreign press)
– Coordinate with filmmakers to get all publicity materials for their film
– Schedule filmmakers/special guests for step-and-repeat
– Archive press materials
– Work with Operations Director to secure a venue for the press conference
– Oversee the whole process for the press conference to make sure press/filmmakers/guests get to the venue on-time
Lead Designer
-Work with Marketing and Communications Director to come up with creative direction and a campaign for AAIFF's 40th Anniversary
-Design Save-the-Date card
-Manage and work with Design Associate to create slideshow walk-ins for all programs
Community Outreach Coordinator
– Strategize and pair films with community organizations
– Outreach to community, government, and young professional organizations
– Maintain partnerships throughout the year, either through cross-promotions or co-presentations
– Outreach to college organizations regarding the National Festival Tour
Feature Films Coordinator
– In charge of all items in correspondence with accepted feature films
– Reviews all selected feature films
– Handles Print and Traffic for feature films
– Obtaining and returning all required press and exhibition materials from filmmakers
– Manages house playing feature films the days of festival
Short Films Coordinator
– In charge of all items in correspondence with accepted short films and special presentations (panels, special screenings, etc.)
– Reviews all selected short films and special screenings
– Handles Print and Traffic for short films and special presentations
– Obtaining and returning all required press and exhibition materials from filmmakers
– Collecting bios from panelists/special programs
– Manages house hosting shorts program and special presentations the days of festival
Special Presentations/Panels Coordinator
– Brainstorm topics for special presentations/panels/Screenplay Competition
– Outreach and be in correspondence with special presentations panelists and speakers
– Coordinate with SAG-AFTRA and Screenplay Winner on casting/reading
– Handles Print and Traffic for special presentations
– Obtain and return all required press and exhibition materials from panelists and/or filmmakers
– Collect bios from panelists/special programs
CineVue Coordinator
– Write an overview article of AAIFF'17 based on theme/trajectory
– Recruit contributors for CineVue
– Coordinate with Programming Team to setup interview with filmmaker(s) and artists
– Brainstorm interview questions for filmmakers and artists
– Publish articles on CineVue within ACV's website