AI WEIWEI: NEVER SORRY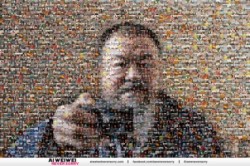 AI WEIWEI: NEVER SORRY follows Ai Weiwei, a political delinquent, who challenges the notion of freedom through his art and conceptual work. In a country that celebrates censorship, he makes us imagine possibilities beyond limitations: what does it mean to use art as a political tool? Ultimately, he puts out a call for transparency, but how will the Chinese government respond?
On Wednesday, August 1 at 7:20pm, please join us to watch:
AI WEIWEI: NEVER SORRY
Weds., Aug. 1 @ 7:20pm
IFC Center
323 Avenue of the Americas at West 3rd Street, New York, NY 10012
**Use code "BEIJING" at the box office to save $3 per ticket for this showing**
This discounted offer is only available for this Aug. 1 7:20pm showing and not available online. Limit of 2 discounted tickets/person.
Community Partners: Asian CineVision, The Asian American Legal Defense and Education Fund, Asian American Bar Association of New York, Asian American/Asian Research Institute, Museum of Chinese in America Young Professionals, National Association of Asian American Professionals New York, AsianinNY.com, Oriented New York, Kollaboration New York, FeliCity, and with support from the Asian American Journalist Association New York Chapter.