ARTIST SPOTLIGHT: JEANNIE MAI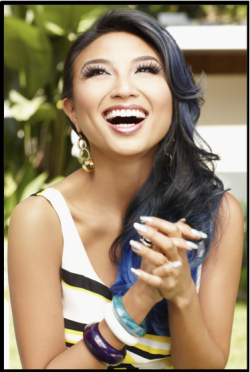 Jeannie Mai is an American makeup artist, fashion expert, actress, and TV personality. From her humble beginnings hosting at "Stir TV" (an Asian American Magazine-Style show on the International Channel Networks) to her now most prominent work as the current host of "How Do I Look?" on the Style Network, Jeannie is one of the most recognizable Asian American faces on television today. She has frequently appeared on many shows ("Today," "Extra," "E! The Daily 10") lending her advice and expertise on fashion, beauty, and style. She discusses her journey thus far in stepping into the entertainment and fashion world, her outside initiative in establishing the Prayer Box, gives some career advices, and even some fashion tips with CineVue! 
CINEVUE: Could you define a challenge you've encountered so far in having a career in entertainment and fashion, and how you overcame it?
JEANNIE MAI: First, it's really hard as a woman to be told what to do, so one thing I need to keep in perspective is that I'm not telling a woman what to do, I'm helping her to see what's best for her to do when it comes to dressing to her potential. Hosting "How Do I Look" was always a battle from the start because the woman never volunteered to go on the show, she was brought onto the show by her loved ones. That, in itself, was sometimes a kicking and screaming event but as soon as I would help the woman to realize my goal, even to the point of just being there for her, she threw on her big girl pants and took her own first steps for her future.
CV: In the last few years, we started to see a bit more Asian-Americans on television and film as actors and tv personalities – Joe Zee ("The City," "All On The Line"), Jamie Chung ("Once Upon A Time," THE HANGOVER 2), Mindy Kaling ("The Mindy Project"), & Steve Byrne ("Sullivan & Son") – just to name a few. We're sure that when you were growing up, it was even more rare. How did the rarity of Asian Americans in media arts help play a factor in pursuing your career?
JM: I'm very proud of being a Vietnamese-Chinese American, so anytime I see anyone from any of my Pan Asians countries succeed where it would be my industry or any other industry out there, of course I'm going to be very proud. That being said, it really doesn't affect my drive one way or another. I'm always going to put out my very best whether I'm the only Asian or one of many.
CV: Who are your professional inspirations and why?
JM: I would say number 1; my mom. My mom immigrated here a few years before I was born and through her first few years of experience, she realized that people really judge who you are by the way you look. While growing up, I learned immediately that I had less than 3 seconds to make an impression and I could make or break that with the way that I present myself. [Therefore] my mom is a very big factor in who I am today and in my job.
Number 2, would be God. I have a spiritual foundation to my life and it's really important to me to have core values and beliefs because I believe if you don't stand for something you'll fall for anything.
CV: Recently, No Doubt had to pull their new music video, "Looking Hot" and Victoria's Secret had to cut a runway segment from their 2012 Fashion Show broadcast due to the use (what many thought was ill-mannered) of Native American inspired clothing. What are the boundaries in fashion and how far should "inspirations" go?
JM: I think it all comes down to the intention of the person dressed. If the intention was to celebrate cultural garments and the historical progression that we've adopted from that heritage then by all means I'd like to see it celebrated. I personally love how Alexander Wang incorporated Mandarin collars into many of his jackets and the way Diane Von Furstenberg still cloaks many of her wrap dresses with the infamous colors of strength from the women of China. These details allow us to celebrate nations and heritage and I think it's a beautiful thing.
CV: You've established the Prayer Box which one can get to by hiking the Runyon Canyon in Los Angeles, CA – quite a sweet initiative! Could you elaborate on how this came about?
JM: I think Los Angeles can be a very distracting place if you don't connect with your inspiration as to why you are here. So when I first moved to L.A, I hiked Runyon Canyon every morning just to get to the very top where I felt myself achieve something on my own. [Once at the top,] I'll pray for others around me that are trying to do the same. After a while, I saw others come up to the top and share this moment with me so I decided to establish this prayer box as a place for others to pray it forward. It's a very simple thing. You just write your prayer on a piece of prayer, flip it in the box for someone else who needs it and take a prayer out of the box.
CV: Could you forward three advices to aspiring individuals pursuing entertainment and fashion?
JM:
1. Your identity is your signature. The same way you sign your autograph is the same way you should present that identity in every circumstances that you get in chasing your career.
2. Stay focused and persistent. Give your 110% in every situation and have an attitude of gratitude the entire way.
3. Surround yourself with positive, influential people. I couldn't have done this without my own mentors, friends and husband. I suggest to anyone else to keep a mindful perspective of the people they surround themselves with.
CV: And finally some fashion fun! What are three 2012 winter fashion must haves?
JM:
1. Head accessories; things like turbans from Cult Gaia which is one of my favorite turbans right now are great pieces to transform your entire look.
2. Indulge in accessories. It's the one way to change the LBD (Little Black Dress) in your closet 6 different ways so you can wear them to your numerous holiday parties. You can find the latest must haves at Opensky.com. Each week, I work close with the team to feature the latest additions that are mustys to your closet. I'll always shop for affordable finds too, so you don't have to 😉
3. Booties; whether open toe or closed toe, booties instantly add an edge to any cocktail dress or pair of jeans. Invest in a staple color like black and a fun color like maroon or oxblood for your closet. There are great quality selections at ShoeDazzle.com . They are always up to trend and I still can't believe they ship right to your door for under $40!
---
For more fashion & beauty tips from Jeannie Mai visit her blog at iheartjeanniemai.com!
Like: www.facebook.com/IheartJeannieMai
Tweet:@jeanniemai
Subscribe: www.youtube.com/themaitube
Comments
2 Responses to "ARTIST SPOTLIGHT: JEANNIE MAI"
Trackbacks
Check out what others are saying...