CALL FOR ENTRIES | AAIFF'13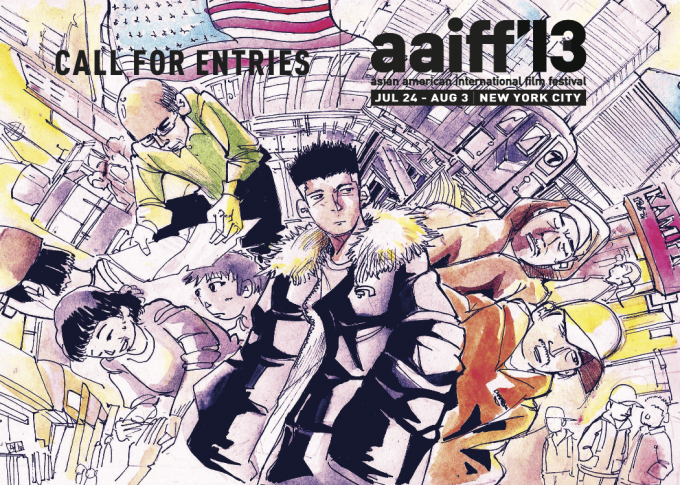 Today marks the official launch for the 2013 Asian American International Film Festival CALL FOR ENTRIES period!  From now until February 15, 2013, you can submit your work and have a chance to be a part of The 36th Annual Asian American International Film Festival from July 24 through August 3, 2013. Eligible films include shorts and feature-length video of any genre by an artist (director, producer, and/or actor) of Asian descent.
FILM CATEGORIES:
Narrative Feature, Documentary Feature, Short Film, Music Video, Work-In-Progress, Youth Film (made by filmmakers under the age of 21)
HOW TO SUBMIT:
Early Deadline: 01.25.13
Final Deadline: 02.15.13
Work-In-Progress Deadline: 03.15.13
Submit your film online via Withoutabox |  https://www.withoutabox.com/login/5751
AWARD CATEGORIES:
Emerging Director (narrative feature filmmaker), Emerging Director (documentary feature filmmaker), Excellence in Short Filmmaking, Audience Choice (feature-length film), Youth Vision One-to-Watch Award.
QUESTIONS & OTHER INQUIRIES
Please email ACV at info@asiancinevision.org. Please, no phone calls.
About AAIFF
THE ASIAN AMERICAN INTERNATIONAL FILM FESTIVAL (AAIFF) premiered in the summer of 1978 in New York City with a program of 46 short films and videos from across the U.S. answering a growing need for social understanding, cultural diversity in American life, and independent cinema.  AAIFF is the first festival in the U.S. to showcase the film and video work by artists of Asian descent. Thirty-six years later, the AAIFF has grown to include films and video from more than 30 countries, a variety of topical panels and workshops, industry mixers, staged readings, exclusive interviews, receptions and more.